N95 V.S KN95 Face Masks: What's the difference?
September 09, 2020
by Vlen Feng
Health care workers are prepared to protect themselves with Chinese-manufactured KN95 masks if faced with continued N95 respirator shortages, leading to the question: What is the difference between the two coverings, and are KN95s OK to use? 
What can they filter? 
Both masks are also required to capture and filter out 95% of particles smaller than 300 nm in the air, according to the Centers for Disease Control and Prevention and the U.S. Food and Drug Administration. 

The size range of SARS-CoV-2 (COVID-19) is 65-125 nm, but corona virus DOES NOT TRAVEL ON IT'S OWN. It's spreads by droplet transmission. It bonds to something larger. In this case to aerosol droplets produced while speaking or breathing - droplet size is about 1 micron.

They usually come clumped together with other particles (mucus, residue, from lungs, more virus particles, water vapor, etc.) causing total size to increase above 0.3 microns.
 Hence, both N95 and KN95 masks can protect against the corona virus effectively.
KN95 versus N95: Reusability
Both the US N95 and Chinese KN95 masks are manufactured and designed for one-time use (disposable design).

This means that each new use would require a new mask. However, because of the shortage of the N95 and KN95 masks, the CDC has recommended reusing of the disposable filtering facepiece respirators as a crisis capacity strategy.

The strategies for the extended use of masks like N95 or KN95 are available at The National Institute for Occupational Safety and Health (NIOSH).
KN95 masks are able to be UVC sterilized to allow for up to 20 uses. This reusability helps to make sure that the supply of masks is not depleted quickly.
Vivzone Reusable KN95 Face Mask -  $19.9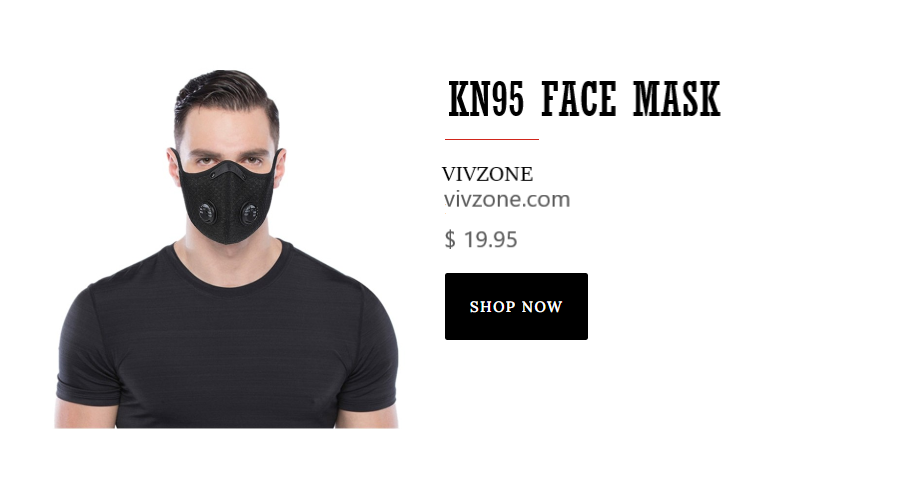 What dose KN95 and N95 mean?
"N95 is the U.S. standard, and the KN95 is the China standard," Sean Kelly, founder of New Jersey-based PPE of America whose company was among those tapped by Connecticut lawmakers to provide personal protective equipment to frontline workers in the state. 
KN95 stands for the regulatory standard for filtering facepiece respirators that are certified in China. The regulatory standard refers to a design that ensures filtration efficiency, tight seal with the face as well as minimum leakage.

It is important to mention that the requirements for a KN95 certification are almost the same as the requirements fo the US N95 filtering facepiece respirators.

That is why both KN95 and N95 provide the same levels of protection, according to international standards and certifications.
KN95 vs. N95 – Differences Highlighted
Both ratings require masks to be tested for filtration efficiency at capturing salt particles (NaCl). Both are tested at a flow rate of 85 L/minute. However, there are some differences between N95 and KN95, highlighted here.
Most of these differences are small and would be uninteresting to the average mask user.
N95 masks have slightly stricter requirements for pressure drop while inhaling. That means they're required to be slightly more breathable than KN95 masks.

Don't worry, despite it sometimes feeling difficult to breathe through masks, dying from oxygen starvation is very unlikely when wearing a mask.